Tomorrow marks the day that I return to work. I'm self-employed and have been for a number of years, it is the only way I can make being a working mum, work. I had baby number three in January 2019 and always knew I would take some time off, but I had no set plan as to how much. In the last few weeks I have been itching to use my brain properly and my decision to return just feels right. I feel ready, my baby is in a pretty good routine and it is all systems go.
I've occupied my mind over the last few months with building up a community for Geriatric Mums. Creating this blog, the facebook group and other social media bits has meant my brain hasn't completely shriveled up, but I have to say that my memory and my capacity to think quickly, has noticeably changed. I've been craving problem solving, connecting with other business owners and I've been missing my work life.
I'm a confidence coach and I help women to become confident inside and out. I love my work and I'm committed to helping others with their confidence.
My own confidence used to be really unstable and I have first hand experience of how damaging it can be in both your work and personal life. On a scale of 1-10, I'd fluctuate between a 2 and a 9 (and everything in between) and it was utterly exhausting. Only when I decided to work on my own confidence 4 years ago, did things change for me. The result was me being in control of my own life and designing a work life for myself that suited me and my situation. The other benefit was that I was no longer hiding. I was no longer unhappy. I was no longer blaming others for my misfortune. I was in control and happy.
I am in control and happy.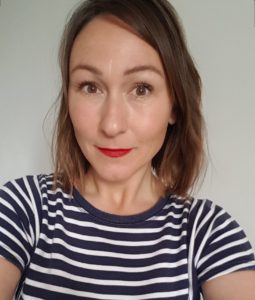 I want to share with you my top tips for feeling confident about going back to work:
Make sure you feel ready to go back.
Agree on the hours that suit you and be in control of this.
Plan childcare well and have a back up plan.
If your pre-pregnancy clothes don't fit you, go and buy a few key items that make you FEEL great before you step back into work. If you wear a uniform, buy a gorgeous bag or some accessories or go for a fab haircut instead.
Practice a simple skin-glow make-up look, for when you don't feel like you glow (yep, we've all been there).
Master bright lipstick – this can make you feel great even on the dullest of days.
Work on your inner confidence – once you become truly confident you will handle anything your day throws at you, especially when things don't go to plan.
Journal every day – using a journal will help you keep on top of your feelings and to process or prepare for your day.
If you are not happy in your situation, decide now to change things, before it makes you miserable. If you can't make that change on your own, get support.
Good Luck if you are returning to work soon, dig deep and work on that confidence so that you enjoy being at work – you'll be so glad you did.
Lucy