A couple of weeks ago I was sent a cool-looking box of drinks. Not a box of 'drink' (aka box of wine), but a box of child-friendly drinks… to sample. What a treat!
But, the treat wasn't for me, sadly, it was for the kids. I have three children – aged 12, 9 and 3 – and they love treat-style fizzy drinks. I used to be really strict on fizzy pop (my name for it as a child) but as the years have gone by and the parties, play-dates, days out and wanting sweet drinks has increased – I am a bit less strict. Don't judge! I don't like letting them have pop, but somehow it becomes and thing and it is hard to avoid. At weekends we have started to spend a bit of time down at our local cricket club and it seems that all the children drink fizzy drinks – mine included if and when they can – and it is not good.
The package from JAMU came at a great time because I was starting to get a bit worried about my kids seeking out fizzy high-sugar rubbish.
JAMU Wild Water is zero sugar, zero artificial sweeteners, no preservatives, it contains prebiotic plant fibre and other goodies like VitC and zinc – and we tried three flavours:
Sparkling Raspberry Elderberry & Mallow
Sparkling Lemon Dandelion & Nettle
Sparkling Blood Orange & Echinacea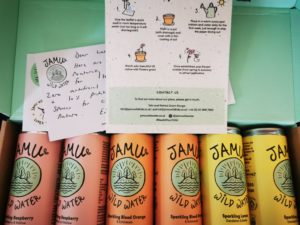 My eldest child and I taste-tested the wild waters together, and we scored them on a scale of 1-10 over three categories. Here are our results –
JAMU Wild Water Sparkling Raspberry:
TASTE – Nancy 8 / Lucy 8
DESIGN – Nancy 9 / Lucy 9
PURCHASE – Nancy 8 / Lucy 9
JAMU Wild Water Sparkling Lemon:
TASTE – Nancy 9 / Lucy 10
DESIGN – Nancy 9 / Lucy 10
PURCHASE – Nancy 9 / Lucy 10
JAMU Wild Water Sparkling Blood Orange:
TASTE – Nancy 8 / Lucy 8
DESIGN – Nancy 9 / Lucy 9
PURCHASE – Nancy 8 / Lucy 9
My favourite, as you can see from the numbers above, was the sparkling lemon flavour. I found it utterly delicious! Refreshing, clean-tasting and the can size is perfect – not a monster can in sight. I love knowing that a fizzy drink is good for you, too. So many of the fizzy 'healthy' drinks on the market taste a bit fake and therefore I don't enjoy them. I can honestly say I really like the whole JAMU thing. I know they are not for 46-year old women like me, but I would totally buy them for myself and the kids. I might ask the local cricket club to do the same!
Nancy's favourite was also the lemon flavour. When I asked her how likely she was to purchase a can, her lowest score (raspberry and blood orange) was a surprisingly high 8. She made it clear that she thinks the can is cool and wouldn't feel embarrassed drinking it with her friends – GOLD! Nancy loved the packaging, the right level of 'fizziness' and she adored our little taste-test project.
My final verdict is that JAMU have hit the nail on the head with these lovely kids drinks and they will be especially delicious in the summer with ice. In fact I would enjoy them with a splash of gin, but that's not what this review is about. The ethos of the company 'nature nature nature' is spot on and I adored the leaflet that came in the box, which is laced with native flower seeds. It's designed to be planted in the ground and produces beautiful UK native wild flowers – this means bees, children and parents are all happy. We are going to plant ours at the weekend.
A huge well done to Tahi and Patrick who founded JAMU – this geriatric mum loves what you are doing.
This is not a paid feature and I reviewed the drinks that were sent to me free of charge.
JAMU Wild Water is available to buy in packs on the website and subscribers receive 10% off all orders.