I love chatting to other 'geriatric mums' about their experiences and I am so glad to bring you Philippa – read her story – it's ace and her attitude to being an older mum is nothing but brilliant.
The stats:
Name: Philippa Newland
Age: 50
At what age did you have your first baby? 36
At what age did you have your last baby? 43
Read Philippa's own words below:
I enjoyed my teenage years, in fact, they were pretty wild. In 1989, I left home with my first real boyfriend, and we got jobs in Israel, travelled through Egypt and worked the holiday season in Greece.  This was just the first year. 
The next year we enjoyed the un-spoilt beaches of Thailand, stayed a little bit too long, so took a gamble with our last $50 and discovered Tokyo.
This was the life, and with regular trips there in the early 90's, funded many more years of travel.
Without trying to show off, I consider myself lucky.
I've flown on Concorde, (showing my age now..), been paragliding in South America, (in fact, I broke my pelvis!), jumped on and off a cruise ship travelling along the Panama Canal, hand raised a monkey, spent years renovating and running a backpackers lodge in Malawi and danced under the full moon in the ruins of Maharashtra Fort, to name but a few.
My body clock was ticking though, and I hadn't met anyone interesting and I didn't even know where I wanted to be.
On a brief trip back home, and in the middle of the Notting Hill Carnival madness, I met the man that had the same ideas as me. 
He was to settle me down and father the 3 children we had always wanted.
The only thing was, I was about to start an 18-month stint on a cruise ship, as a photographer, but he was patient and waited until I finally came home.
So we made our home in South East London and we had our first child pretty soon afterwards at 36, and the second at 38. I thought nothing of the fact that I was probably a bit older than most of the woman at the clinic. I was fit and healthy, didn't look my age and thankfully there were no issues.
I had a boy and a girl, what more did I want? Yeah, but didn't we always say that we would have 3? Our youngest had just started school, and I was feeling a little bit lost. Shall we? Shan't we?
And so it happened, there I was, 42 and pregnant! It happened SO quickly, I just didn't think it would happen straight away, but I was absolutely thrilled and with no reservations whatsoever!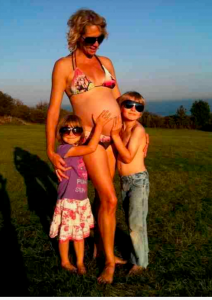 Unfortunately, after the first scan, my blood tests weren't good. In fact I was high risk in every bad way. I was advised to have an amniocentesis* which wasn't very pleasant, in fact it was absolutely awful! If I had actually looked at the tests, all 3 tests from each of my pregnancies were identical, it was just the fact that the odds go crazy once you hit 40 which led to the amnio test.
I absolutely LOVE being pregnant and this 3rd one was probably the best. Am I bothered that I may be the oldest mother in the playground? Absolutely not! I'm proud! I ABSOLUTELY HATE the term GERIATRIC MUM though!! My aim is to be a fit Grandmother! I have a great diet. I juice daily, don't eat processed food, haven't got a sweet tooth and I haven't really eaten meat since I was 17.
I'm blessed with the ability to have children. They are my world.  I couldn't give a monkey's what people think of my age! In fact I was 50 last week! Yay!!
And when asked what advice Philippa would give to other 'geriatric mums' she replied;
Sleep when the baby sleeps! Delegate! I had a lot of help the first month, and as I have 3 children, this was invaluable. Take gentle exercise, no high impact, save your knees! I walked, and still do, sometimes 2 hours a day.
Don't you think Philippa is an inspiration? her attitude to life and kids is so wonderful to read and I know she might help other GMs to think in a different way about their circumstances.
Thank you Philippa!
Lucy x
Have you joined my free facebook group yet? It's a great place for us GMs to share stories and experiences; Join We are Geriatric Mums group
Philippa is a photographer and you can find her here:
Pip Newland Photography
*Amniocentesis is a test you may be offered during pregnancy to check if your baby has a genetic or chromosomal condition, such as Down's, Edwards' or Patau's syndrome. It involves removing and testing a small sample of cells from the amniotic fluid – the fluid that surrounds the unborn baby in the womb (uterus).