The Office for National Statistics (ONS) have released new figures on the average age of mothers at time they gave birth in 2019, and it has increased to 30.7 years, and the average age for a father is 33.6 years.
This shows, that women having babies is at the highest age ever, and women have consistently been getting older over the years.
I was 34 years old when I had my first baby, 37 years old when I had baby number two, and I gave birth at 43-years-old with my last baby. I now have a 10-year old, an 8 year old and a nearly 2-year old, and I am 44-year old. I was way above the national average when I gave birth to Rocky in 2019, in fact 13-years above, and interestingly at 34-years old (my first baby) I was 4 years over the national average.
I do feel that the age that a woman has a baby now, is so varied, and that is so wonderful, because actually, what is age is right, what age is wrong? What age is too young, what age is too old? Everyone has a story as to why they had a baby at a certain age, and that is what fascinates me. I don't judge others for when they have a baby, and it isn't helpful when people do.
Today I was featured on the Daily Mail online talking about my experiences of being an older mum and I also talk about my group on Facebook, We are Geriatric Mums which now has nearly 2000 members – women 35+ who are pregnant or have had a baby.
See the Daily Mail feature here; https://www.dailymail.co.uk/news/article-8953557/Mothers-England-Wales-older-EVER.html (scroll down the article for my 3-minute video).
And, much to my delight, I was featured on Sky News and interviewed LIVE by Jayne Secker about the same figures released by the ONS. We talked about opinions around older mums, why we think women have having babies later in life and what it is like being an older mum at school and at playgroups.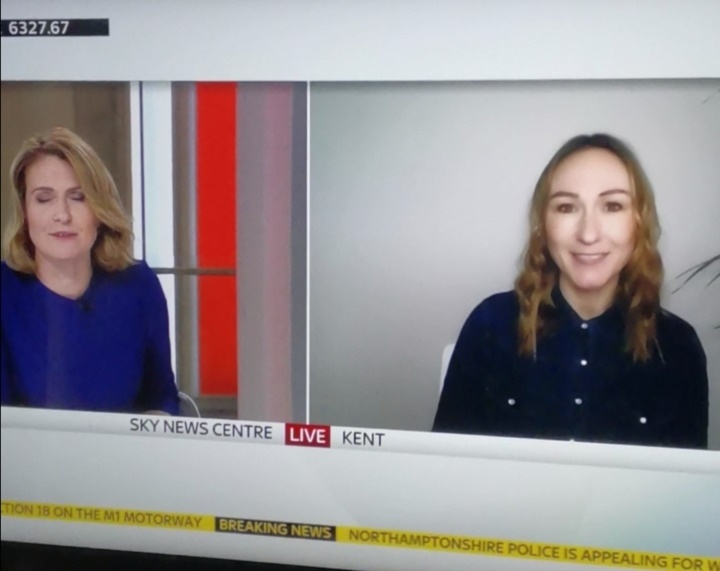 I had a bit of a negative start to my pregnancy mainly because of how people reacted. I wrote about how I felt here; 42 and pregnant but once I settled into the fact that some people can't help but say negative things, and I glossed over the many negative 'risk' articles I read online, I felt good. I had a lovely pregnancy and I enjoyed being pregnant at 42. I felt calm, connected and fearless about what was ahead and my husband was a brilliant support. I realised (at 5-months pregnant) that I wanted to help other women who might be feeling scared about the risks they read online or annoyed and hurt by comments from others and so I started this blog and the Facebook group (We are Geriatric Mums) to connect others, and to create a supportive community. And boy, it is thriving.
It turns out that the best support you can get as an older mum, is from other older mums!
What a day it's been for the 'mums who happen to be older' community – online and on the live news – I am so pleased that I was able to share what it is really like to be an older mum and speak for the 1000s of older mums in my community. Magic.
This is for all MUMS WHO HAPPEN TO BE OLDER!
Lucy x
Lucy Baker is a confidence coach and geriatric mum.
Contact Lucy for confidence; www.shecoachesconfidence.com